Guest testimonials
We had the most relaxed and magical time amongst the amazing trees and plants. The food was absolutely delicious and we all felt so nurtured and nourished for being there. The soups were particularly a hit with the nettle soup stealing the show. There's many requests for the recipe if you could share it with me I've be very grateful 🙏
What a magical place you have created. A hidden gem ✨️ 😍 we hope to be back soon.
Love always,
Aisling
archealing.ie
---
Dear Marlene and Douglas, Gillian and the rest of the team!
I have just come back from the Eco Retreat weekend with Rachel and I wanted to thank you for your hospitality.
To the person who put the hot water bottle in my bed, thank you! I only discovered it on Saturday night but I was so touched!
To Douglas for heating the hot tub and sauna for you, thank you! I went back down on Saturday night and enjoyed both very much.
And to the people who prepared the beautiful food and the beautiful people who served us so attentively, thank you so much.
I'll be back!
Mary – Dec 2022
---
Hi Marlene,
Thanks so much for the use of your lovely space this weekend. We all felt really well looked after, and please pass my compliments along to the chefs! The food was delicious. Please pass a big thank you to Douglas as well, he has a lovely manner and his work with the hot tub was impeccable 🙂 The beauty of the place and the hospitality was noted by everyone, thank you so much for providing all that.
Hope to work with you again soon!
Deirdre, Aug 2021
---
---
Today's class felt very powerful for me. You mentioned hearing the bodies in the room changing with the practice, and I am very sure you were also hearing the bodies of us on Zoom also affecting change and working with the practice. It felt incredible. When we did these cow leg poses, I had the most amazing releases. I continued to check in with this intention lightly spinning above my head and my body continued to find access to releases. When my left knee was on top of my right, I had a very real sensation of bubbles being released from inside the joint. It was a-maaazing! My left hip has caused me some difficulty recently, so this felt very very good to have found some release for it. I was very struck by the impact of working on the piriformus too. So thank you again for this amazing access and for guiding us through it. It means so much.
R. – Aug 2020
---
We had a fantastic day yesterday, thank you so much for the wonderful venue!
We will definitely be back again!
Thanks,
Ciara – Jan 2020
---
Hi Marlene and all the lovely Staff of Sli na bande!
Firstly may I thank you for the amazing stay I had at your centre.
You really have a slice of paradise there and thanks so much for sharing your lovely home with us.
It really is the best venue I have come across, even the chickens were friendly!
The food was magnificent, enough to make a vegetarian out of a meat-eater. Have you considered making a collection of recipes and selling them?
I was on retreat in the Burren a few weeks ago, they have produced their own book, and your food was so much better!
Much thanks,
Mim – Nov 2019
---
Dear Marlene & Douglas,
I wanted to thank you both for creating such a beautiful place. The past year has been very difficult and I didn't expect to be able to enjoy the weekend but from the moment I stepped into the wooden chalet, I was enchanted.
So many beautiful moments. Lying in bed listening to the crackling stove, sitting on the little balcony listening to the wood pigeons, tasting the most delicious food, standing in the hot tub at night in the candlelight feeling the cool breeze, jumping into a cold pool. It was a weekend of rediscovering beauty – the beauty in nature, the beauty in others and the beauty within my own body. And that was even apart from the wonderful meditation, yoga and sound bath!
From the deepest part of my being, I want to thank you, your family and those who work with you and create such a magical place.
Much love,
Hilary – April 2019
---
An amazing space. Food out of this world. Wonderful healing soulful place and as for Marlene – inspiration.
Freya Hanley, March 2018
---
Merci Nele Costers en Annekatrien De Smedt voor het fijne gezelschap! Het waren weer 3 mooie yoga-dagen bij Marlene's yoga retreat Sli Na Bande
-onze bodies verwend met de heerlijkste bio vegetarische schotels en de yoga natuurlijk en onze minds weer helemaal in balans, dank u Slí Na Bandé Marlene ffrench Mullen!
---
---
Dear Marlene,
I am writing you this to say THANK YOU from the bottom of my heart, thank you. For welcoming me into your home, your family, your world. My last two weeks here have boon some of the most beautiful and self-developing of my entire trip. It is here that I have finally begun to fell present – in my self and in the moment. A beautiful thing.
I will carry this place and your spirit with me always. I admire you infinitely for your dedication, patience and strength it takes to maintain its magic.
Yours truly,
Daniella N., May 2016
---
Thank you Marlene (and your wonderful team) for creating such a beautiful space for us to hold our weekend. It was very fitting to have such an inspiring and ecologically (as well as other ways) friendly place for the location.
Nearly all of us had heard of Sli na Bande before but very few of us had actually visited which was such a treat for somewhere so nearby.
Thanks again,
Jenny, Jan 2016
---
We wanted to extend our gratitude to you and all at Slí na Bandé for making us feel so cared for over the weekend of 24th July 2015. We felt that nothing was too much to ask for. I went to Jane with many requests and was always met with a smile. The attention to detail in the rooms – 2 duvets, hot water bottle, a lit stove at bedtime was so nurturing.
The food was varied, tasty, wholesome and so filling that even I didn't get hungry which can be unusual 🙂 The lovely herbal teas and star biscuits! Yum!
Flo was the perfect server – attentive but not intrusive – happy to chat but seemed to intuit when no chat was preferred.
Thank you so much to (I think it was Daniel) for heating the hot tub. We had a lot of fun with it.
Marlene, thank you for communicating with such warmth and yet professionalism in the months running up to the retreat.
Our heartfelt gratitude to you. Hope to see you again.
Love,
Kathryn, Anne Marie and James.
---
OMG!!!
Food, Heart in every piece of furniture, utensils, corner of your garden, every vase, cushion, chair, pation … Everywhere!
Deep thank you for existing
June 21, 2015
---
Slí Na Bandé
Siddhasana sitting still
Look into the light
Inner focus
Natural calm
An introspective rite
Breath aware
Awakened souls
Nurtured contemplation
Deep-down blissful ecstasy
Enlightened realisation
Ciaran Casey 13/06/2015
---
I just wanted to say thank you for a wonderful weekend, the space, atmosphere, people and food we're so restorative. It was exactly what I needed. It provided a sacred safe space to just be. You have developed a very special sanctuary but I am sure you know that!
Thanks a mill
Naomi, June 2015
---
Dearest All at Slí na Bandé,
I would like to thank you All for welcoming us at Slí na Bandé last weekend. The food was amazing and you were all so kind and patient with us. I know it was a bit chaotic at times. To deal with 26 people was not always easy. We do appreciate your effort to make sure that every one of us had a great time.
Anaiya and Greg really Loved Slí na Bandé, and they would like to come back next year
​Much Love & Gratitude​
​Michela xo
Assistant to Anaiya Sophia
www.anaiyasophia.com
---
A big thank you for the amazing healing space that you provide. I happen to think you are the best yoga yeacher ever! I get a lot from your teachings.
Aprile Dec 2014
---
I wanted to thank you and Douglas, Jane and everybody that made it possible for us to come.
You can't imagine how grateful I am, how hard I love you all and how hard you help me in by letting me be who I am (even though I have no clue)..
So Marlene, thank you for everything!
Boustane March 2015
---
Everything was wonderful, as said, and I really appreciated the freedom to move around and stay on etc.
The meditation was inspiring.
Tanya, March 2015
---
Thank you for looking after us all so well. The food was superb, the hospitality fantastic.
The workspace was perfect, a wonderful container for all the magic that flowed.
We look forward to doing it all again with you!
Abi & Lynn, Feb 2015
---
Hi Marlene,
Thank you again for a wonderful weekend in Sli Na Bande and for helping people develop understanding and insight in a beautiful loving atmosphere
Olivier, March 2015
---
Sli na Bande is amazing! All the accommodations and spaces and people and food were way beyond my expectations! Totally blown away …
A big thank you to everyone at Sli na Bande. It was a really special weekend and beautiful weather. I had very positive feedback from the group, things came together in a way that was greater than the sum of the parts that made it an exceptional experience …
The place has an incredible vibe and felt healing, safe and peaceful …
We felt your back story and spirit contributes a lot to the feel of the place and makes people appreciate more what it is they are experiencing …
The food was very impressive and one of the very special parts of the weekend.
Rebecca, Oct 5 2014
"Marlene , I can't thank you enough for another amazing weekend, I just feel such a peace after it 🙂
SOOO next one , can I book in ?!? It's coming at a perfect time!"
Eimear, 2015
---
Thank you for the welcoming Yoga session two weeks ago. It was special. Your wisdom and the sacred space you provide. Sli na Bande has a very welcoming and strong energy. Details like the fresh wild flowers put thoughtfully in many places just touched my heart. Thank you to yourself and Douglas for Sli na Bande.
Melanie, 2014
---
Hi Marlene,
Again a big THANK YOU for existing and for hosting us in our retreat this past weekend, the memory will stay with me for a long time 🙂 I am so happy people like you exist! THANK YOU!
Raluca Vescan, Sep 23, 2014
---
Dear Marlene,
Details of the Recommendation: "Marlene's personal touch makes Sli Na bande that much more special. Staying there is like living in nature without having to rough it out. Each room is special, the workroom is lovely with a beautiful energy, the food is delicious and the volunteers ever-willing to help. Even thinking about the food Marlene and her team dish out is enough to whet my appetite. My experience of being hosted by Marlene was beautiful. We left the place with plans to return and we did! And will again."
Service Category: Residential retreat centre
Year first hired: 2010 (hired more than once)
Top Qualities: Good Value, High Integrity, Creative
Sampoorna G.L.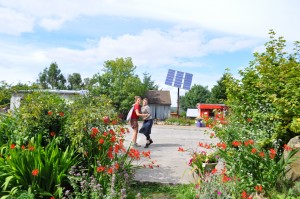 ---
To me, this place is about quieting the mind, getting rid of superfluous thoughts, living close to the forest. I feel surrounded by herbs, self-grown vegetables, energy powered by sun and wind. Animals (chickens, ducks, pigs, dogs, donkey and horse) are never far away. This place is about giving thanks to and respecting the earth while cooperating with and getting to know people coming from a wide variety of countries. All year long, either as volunteers or guests, anyone who feels like being at Sli Na Bande is most welcome. The place has educational, relaxing and farming possibilities.
Mieke Vanfleteren
---
Sli na Bandé didn't steal its name. The goddess sleeps in the womb of this Irish hill. The fruitful rain of creative, healing life-energy influences all its residents. Connected with the goddess, this place, this beating heart, gives the opportunity for a lot of different things to be born. Marleen, you show the way towards healing in a very natural, intuitive and confident way. And this all in wonderful connection with the cosmos. Thanks for that. Lots of love, Griet.
Heeft haar naam niet gestolen. De godin slaapt in onderbuik van deze Ierse heuvel. De vruchtbare regen van helende, creatieve levensenergie Dwarrelt magisch doorheen alle bewoners Haar kloppende hart geeft geboorte aan veel nieuw leven, afgestemd op de godin Marleen, dank u Om deze energie op zo een natuurlijke manier te belichamen en
Intuïtief en vol vertrouwen met de kosmos verbonden te zijn Om zo de weg te wijzen naar heling. Liefs
Griet
---
We all want to thank you for providing us with the use of your beautiful centre, the room we had was gorgeous, the nettle tea was lovely, we're all nettle tea converts! Thank you again for the beautiful lunch we had, Mica was a lovely hostess; everyone we met was lovely, very friendly and very helpful.
We're already asking Cathy for another yoga day so we'll hopefully see all soon and could you please pass on our thanks to everyone. Best wishes
Tara
---
Dear Marleen, My stay was really enjoyable. It's a very special and beautiful place. I admire you and your family a lot. It's unbelievable what you achieved over there. You gave me a permanent warm, loving and connected impression. For me, such a place is unforgettable. You are a beautiful person! Dear Marleen, thanks for being there! Lots of love,
Ilse xxx
Lieve Marleen,
Mijn verblijf bij jullie heeft me enorm veel deugd gedaan, echt waar! Je zit daar werkelijk op een bijzonder mooi plekje, zeer veel bewondering heb ik dan ook voor jou en je gezin! Het is prachtig wat je hebt verwezenlijkt en nog steeds doet natuurlijk! Je gaf mij en vast en zeker ook wel elk ander die daar is langs geweest een blijvende indruk van warmte, liefde en verbondenheid! Voor mij is zo'n plek onvergetelijk! Je bent een prachtig mens! Lieve Marleen, bedankt om er te zijn!!Veel liefs,
Ilse xxx
---
Dear Marlene,
With all my heart I want to thank you for the heartwarming welcome, your generosity, your sense of humor and your understanding. It touched me deeply and I feel lighter and softer; even if I didn't know where I would end up. Typical me, I totally surrendered impulsively, went to Ireland and it was a direct hit. I made already some promotion with my friends so we can return next year. Anyway, you will see me back and working with you again would be great. Big hugs and a big kiss.
Gerarda
Lieve Marlene,
Ik dank je met gans mijn hart voor de heerlijke ontvangst, jouw gulheid, jouw gevoel voor humor en jouw begrijpen. Dit heeft mij geraakt en ik voel mij lichter en zachter. En ik wist helemaal niet waar ik zou terecht komen volledige overgave en hup mee naar Ierland, weeral typisch en het is mij geweldig meegevallen ik heb al reclame gemaakt bij mijn vriendinnom mee tot bij jullie te komen en in ieder geval ga je mij terug zien en samenwerken met jou zou heerlijk zijn. Dikke knuffels en een dikke zoen
Gerarda
---
Dear Marleen,
About my stay in Ireland: first and foremost the warm welcome, the openness, the sharing friendship in connection, the valuable yoga sessions, the most intense sweat lodge ever, the delicious food and the cozy house. In short it gave me the opportunity to refresh at the source and find myself. I definitely will return to this beautiful Irish spot.
Greetz
Dag Marleen,
Mijn verblijf in Ierland, Allereerst de warme ontvangst, de openheid, het delen met elkaar van vriendschap in verbondenheid, de waardevolle yogalessen de meest intense zweethut ooit meegemaakt, het lekkere eten, en het knusse huisje, kortom ik ben helemaal terug bij mezelf toegekomen alsof ik me heb mogen laven aan de bron. Ik kom zeker terug naar deze mooi plek in Ierland.
groetjes